Dolphin Quest Интернет Слот
---

Вы хотели новый слот, совершенно другой, с совершенно другим способом игры, с идеей, которая будет держать вас сосредоточеным, где единственное сходство с другими слотами являются барабаны которые крутятся и, возможно пару похожих символов и не больше. Это слот для Вас!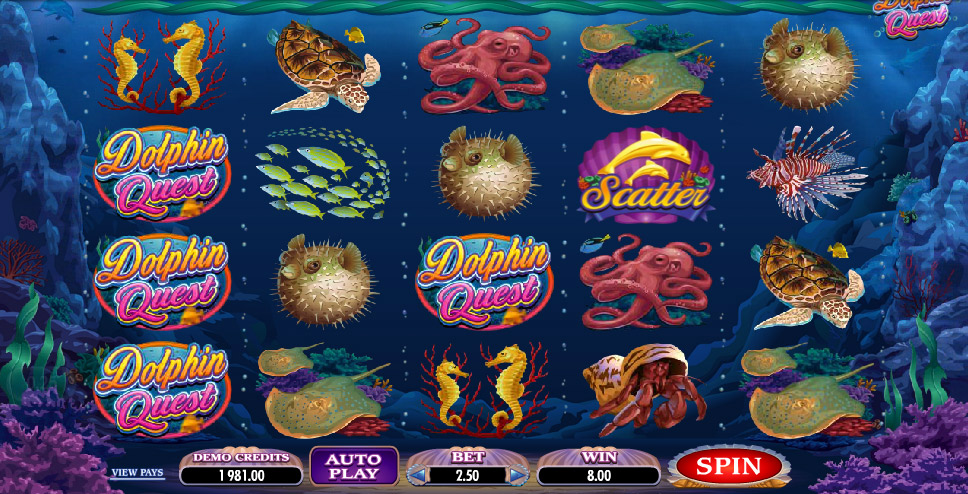 Первое, что вы увидите и заметите, в дополнение к необычайной анимации и темы принося всю морскую жизнь к вам, являются 5 барабанов, как и в любой другом слоте, но с 4-е горизонтальные выигрышные линии, с 50 выигрышных линий!
В игре символ Scatter является золотой дельфин (в 4-ом барабане на картинке), и он появляется только во 2-й, 3-й и 4-й барабане, и обеспечивает бонусную игру Задание Дельфинов. Бонусная игра состоит из 3 барабанов с разным количеством очков, значения в средней линии добавляются вам как бонусные баллы, (как на изображеии ниже).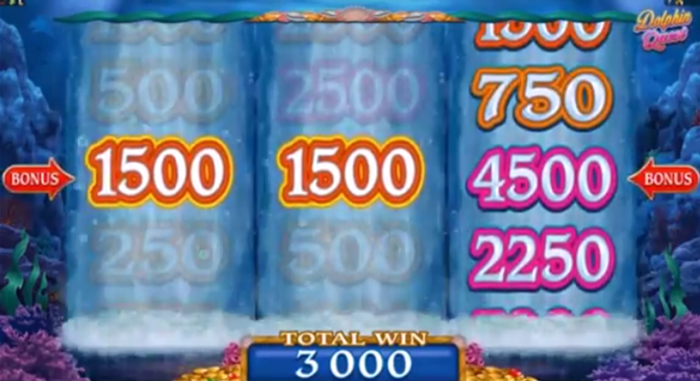 There is a "Dolphin Quest Symbol" (in the 1st and 3rd reel in the picture) that is the Stacked Wild symbol or, to put it simply and directly, just like the picture shows, the Joker that can cover one, two, three or the entire pay line (reel).
This is a great story, nicely explained and evoked, and sounds interesting, but you get the real feeling on all said only by playing this slot.
We would not exaggerate if we were to say that this is one of the rare slots in which you will not be "desperate" for the Bonus game. It is there, but the multiple winnings, the possibility of payout where in the first reel you get the full reel of "Dolphin Quest" symbols, in the second, third and fourth "Golden dolphins" Scatter symbols and in the last reel just one more Dolphin Quest symbol, cannot be matched even by the Bonus game, almost.
Try it, this is one of those games which, due to a huge number of pay lines, two types of Jokers, and a Bonus game, you can play for hours on a small stake. It is certainly worth the try; it cannot cost you too much.
---